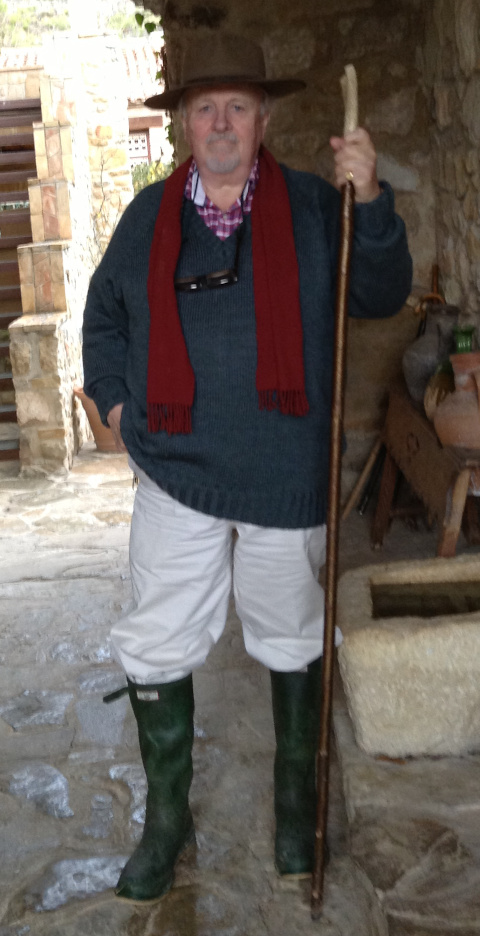 John Deacon at the
Torre del Visco in Aragón
In 1987, over 30 years ago, during a short career break, my late wife Irene (d.2002) and I bought the complex known as "Campobello" and moved to Jávea on Spain's Costa Blanca. Equidistant from Valencia and Alicante we were entirely innocent of the fact that we had chosen to come to live in the most outstanding place on Spain's east coast (at least between Barcelona and the Costa del Sol); Jávea, known as The Dawn of Spain since the rising sun strikes it first in the country. Late in 2005 I was joined here by Lorna Ainsworth, model, hospital manager and JP who became a major feature in our development of this successful holiday business. After 34 years Campobello was sold in the spring of 2021 whereupon we both returned separately to Britain.

My father John Nissen Deacon, MC, MB, BS (1892-1959, educ. Epsom College & Royal London Hospital) was an ENT surgeon and Medical Director of Edgware General Hospital (1927-1957) who served in WWI with the RAMC at the Somme (where he was awarded an MC at Oppy Wood for (disobediently) leaving the trenches to rescue a British pilot from a burning aircraft and returning whilst the Germans held their fire - presumably because of his red cross arm band !). He was at Arras, Ypres and - at the war's end - in northern Italy at Piave. In the early '20s he was Medical Officer attached to GHQ Cairo and was in Luxor through most of the winter of 1922/3 specifically at the time of the discovery of the tomb of King Tutankhamun. A treasured photo of him is as a guest at a lunch (following the discovery) which was given by Howard Carter for Lady Evelyn Herbert in the Valley of the Kings. Although the London Times had an exclusivity on the discovery his "illegal" articles, for such as the New York Herald & the Egyptian Gazette, are still in our possession as is the Christmas Day menu at the Winter Palace Hotel (see link to his archive).
After general practice in Tanger (Morocco) he was later appointed as the first Medical Director of the newly-built Redhill County Hospital (later renamed Edgware General Hospital) serving from 1927-57. This 653+ bed hospital reached a position of considerable eminence in the post war period due especially to its very sophisticated Records Office under Miss Ridge (in the pre-computer age). In the last decade or so the hospital was pulled down to redevelop its huge acreage and during which the administrative barbarians of the NHS lost the boardroom portrait of my father. As an ENT surgeon my early visits with my father naturally took me into the operating theatre. These were, I am sure, designed to keep me away from medicine and, as it turned out, they were successful. In fact I am the first member of the family not to have been in medicine for over 200 years.
In this respect readers will likely be greatly moved by the wonderful letter which was written aboard HMS Victory by Dr. Leonard Gillespie MD, RN, Physician to the Fleet under Lord Nelson (Gillespie was a distaff cousin of the Deacon line many times removed) to his sister in Armagh in the spring of 1805 and describing life aboard Victory in the Mediterranean under Nelson's command.

I was born at Edgware General in October 1940 and educated at the kindergarten of Miss Rees in Bushey Heath, the prep school Southey Hall (Great Bookham) & later at Fernden School (Haslemere) and, with the Common Entrance exams behind me (required 70% average passes), I moved on to Charterhouse, where I enjoyed above average achievement in rackets, cross-country running, squash, fives, 3rd XI football and rifle shooting at Bisley - later becoming an "Atheling" (a member of the UK Cadet Rifle Team in 1957 as selected and sent annually to the DCRA meeting in Ottawa). The following year I attended McGill University, Montréal to study commerce. My father's death intervened and sensing that I should rejoin my mother and sister, and begin the career intended for me in accountancy, I returned to London and joined Deloitte, Plender, Griffiths in the City. It wasn't long before I realised that the City, and accountancy too, would be more like spending a lifetime washing up the dishes (or fielding at cricket) and that I felt that wanted to do some of the "cooking" myself. After a 10-month stretch with them in the City it had become clear that I was in the wrong place. I decided to enter the world of recorded music and joined the export department of EMI Records at Hayes. By then I was already a Philharmonia groupie (Klemperer, von Karajan & Giulini especially) and had started very regular visits to the RFH and the ROH Covent Garden.
This career took me, and later my family, whilst working for EMI Music and Philips Classics (then part of PolyGram Classics but now part of Universal Classics) to numerous countries including France, Belgium, Lebanon, Cyprus, Greece, Holland and the UAE. In France & Belgium I became fluent in French and acquired a passionate life-long interest in food & wine ! The EMI classical catalogues (HMV & Columbia) were subsquently moved to Warner Music (following the thoroughly daft decision of the EU to see the company split in two !).


John D's apposite view of
most pop music.


John Deacon (r) & John Robinson meeting
Maria Callas (EMI reception at The Racing Club,
Bois de Boulogne, Paris - Summer 1964)

My career began as a trainee in the export department of EMI Records at Hayes (in May 1960) which soon included my being appointed to set up the company's import service bringing in records from EMI's associated companies across the world. From thence I was transferred to Pathé Marconi EMI France (1964-7) and then to EMI Belgium (1967-9) during which I met many awe-inspiring artists including Callas, Christoff, Vickers, Créspin, Rita Gorr, Grace Bumbry, Viktoria Mullova, Felicity Lott, Agustín Anievas, Elisabeth Harwood, Igor Markevitch, Artur Rubinstein, Bernard Haitink, Elizabeth Schwarzkopf, Pollini and Enrique Jord

á

. In lighter vein, Adamo, Gilbert Bécaud, Claude Ciari, Sacha Distel, Herb Alpert, David Frost, Franck Pourcel, Georges Jouvin, Roger Whittaker .....& The Shadows ! Later at Philips Classics in Baarn (NL) Valery Gergiev became a feature of my life as we were filming and recording at the Mariinsky Theatre in St.Petersburg.
Later, in the Middle East and Greece, I acquired a wide knowledge of the music of the Arab world and met many of their musical "giants" such as Fairuz, Abdel Halim Hafez, Mohamed Abdel Wahab, Warda, Farid el Atrache, Omar Khorshid, Sabah, Amr Diab (and others but, alas, not the great Oum Koulsom!). All of these experiences I was delighted to add to the modest knowledge that I continue to acquire to this day notably in opera and other forms of western classical music.

The greatest event that never happened to me was to have been the arrival of Sir John Barbirolli and The Philharmonia, along with pianist John Ogdon, to perform at the 1970 Baalbeck Festival during my tenure as MD of EMI Lebanon. Sir John's untimely death intervened and they never came (but I still have the very rare (?) printed programme !) ..... Mahler's 1st symphony in the Temples at Baalbeck would have been unforgettable.

After a year in Cyprus (where it was decided not to open a branch of EMI) I found myself in 1971-2 at EMI Greece (then known as the Columbia Graphophone Company of Greece) and, as Sales Director, had been placed in charge of all commercial affairs at their large factory and several recording studios (380 employees). I was especially charged with the responsibility of bringing all EMI's Arab music producers under the wing of that company. I had long sought this major change in the policy of the company - to remove these catalogues from EMI UK & France and thus to improve the position of the Greek factory to service an area where it had built up an unmatched reputation since the mid-1920s. This was superbly carried out by EMI's lawyer Guy Marriott (himself later MD of EMI Greece and eventually Chief Counsel of EMI Music) who re-wrote all the contracts with the owners of these famous catalogues, Soutelphan, Voix du Liban, Parlophone-Voix de l'Orient, Cairophon, Baidaphon, Sout el Hob and numerous other labels and thus arranged for the transfer of all their materials to the Athens factory for manufacture and distribution. The company also took on the production of the complete cassette catalogue of the state-owned Sono Cairo label which, all together, constituted a near monopoly in the manufacture and distribution of these musics (then on LP, cassette and 8-track cartridge) - excluding, of course, the music of the Mahgreb. An article attached to this site reveals how the 1926 HMV Alexandria recordings of Oum Koulsoum came to be misappropriated by Nasser's government so that we were, for a time, manufacturing some of our own recordings for distribution without being aware - and paying royalties to a false owner !
In 1974, at EMI's Columbia Studios in Athens, I produced two unusual instrumental recordings with the marvellous French (acoustic) guitarist Claude Ciari, accompanied by 15 specially selected Greek musicians, playing fascinating arrangements (by Karl-Heinz Schaefer, who also directed them) of some of the most famous melodies of two "giants" of the Arab world - Fairuz and Mohamed Abdel Wahab (both are still available on CD from EMI Music Arabia).

The same year I also produced (with the most able assistance of the late Dr. Michael Dobbyn, a professor of linguistics) the only recordings ever made in Arabic of Prokofiev's "Peter & the Wolf" and Britten's "Young person's guide to the orchestra" narrated by broadcaster Kamel Costandi (with the Orchestre de Paris/ Igor Markevitch); alas these are no longer available although the recordings Dr. Dobbyn & I made of the same works in Greek with Kostas Kastanas - then a young actor and protégé of the great Alexis Mynotis - have remained in the catalogue to this day (EMI Classics Greece CD: 480563-2).

The 36 Greek dances of Skalkottas : During 1975 EMI Greece was approached by John Papaioannou, president of the Greek Society of Contemporary Music, and we met to discuss the imminent completion of the transcriptions (into full orchestral parts) of the remaining unpublished dances of Skalkottas (about 24 of them as I recall) which work had been underwritten with great generosity by The Ford Foundation. Papaioannou sought a deal whereby he would release the scores to EMI for a world première complete recording to be made just so long as EMI agreed to record two other (less commercially attractive) works by Skalkottas. I suggested Antal Dorati as the ideal conductor for this project especially since Dorati was to be in Athens that summer with the Philharmonia Hungarica and I met with Dorati who assured us he'd be delighted to conduct the project. Sadly the chief of EMI Classics, Peter Andry, refused to rise to the commercial pressure involved and the project collapsed. I tell the full story on the pages of MusicWeb following the review of the (eventual) first major complete recording of these delighful works on the Swedish BIS label in 2003.
---
Stop press
The "History of Columbia/EMI Greece" being filmed in Jávea .....


l. to r. Louis-Davis Brozzetti (producer), Jane Jamieson, John Deacon, Cyril Plotnikoff (sound), Peter Jamieson
A French film team under Louis-Davis Brozzetti visited Jávea in September 2019 for 3 days to cover the history of the Columbia Graphophone Co. of Greece (1920s - 1994) (later EMI Greece) and in particular the parts played by local retired Jávea residents Peter Jamieson & John Deacon. They sought to film & record the details and reminiscences of their significant contributions (1970-78) to the history of Columbia (later EMI Greece). During this time these companies became all-powerful in both Greek music and in the distribution and manufacture of most of the major Arab music catalogues. In Paris shortly (June 2023) I will meet both Brozzetti and lawyer Ahmad Chamseddine - a relative of the renowned Nasri Chamseddine who was the leading bartone in all the Fairuz / Rahbani productions at the Baalbeck Festival and the Piccadilly Theatre in Beirut.
The most illustrious period, in regard to the Greek part of the history of the company, took place between 1970-78 when Peter Jamieson was MD of the local record company EMIAL SA working with major artists and composers such as Bithikotsis, Moscholiou, Xylouris, Xaharkos, Kokotas, Galani, Tsitsanis, Hatzinasios & Markopolous who had chosen to stay in Greece under the regime of the colonels and fight the censorship from within, all the while preparing for the return of Theodorakis and the restoration of full musical and artistic freedoms. EMIAL even captured Nana Mouskouri from Philips for an iconic recording of Greek songs "Spiti mou, spitaki mou" ! John Deacon contributed from his position as Sales Director at the 380-strong factory & recording studios outside Athens ensuring maximum effect towards exports of both Greek & Arabic musics. In that position he was in charge of all external commercial affairs especially covering all the main record catalogues of the Arab music scene.
Footnote May 2023 : It had been intended that the film would be ready in 2020 but the pandemic intervened and the project had to be put aside. A few weeks ago we were advised of the film's planned revival when, and coincidentally just as I am leaving to meet him again in Paris, Brozetti wrote to John Deacon : "We have now secured a scholarship from the École Française d'Athènes (https://www.efa.gr/fr/) and we are preparing a formal request with precise dates and demands. The "we" refers to researchers Panagiota Anagnostou & and Nikos Ordoulidis".
---
In 1977 in mid-career, between EMI & PolyGram Classics, I returned to England for the first time since 1964 and founded Conifer Records. The company began by importing Arab cassettes & LPs from EMI Greece and eventually employed some 32 people having risen swiftly to become the leading UK distributor in the field of imported recorded music (mostly classical) representing many very famous labels (EMI imports from their worldwide network, Erato (now part of Warners), BIS, Nonesuch, Telarc, Hungaroton, Deutsche Harmonia Mundi, Sterling, Caprice, Clavès, DRG, Blue Note, etc.. and, from the UK, the renowned labels Lyrita and World Record Club (EMI).
In 1983 Conifer Records won no less than four Gramophone Awards which I had the great honour to receive from Sir David Willcocks CBE on behalf of the producing companies at the annual ceremony at the Savoy Hotel. This took place in the company of Sir Michael Tippett OM, Sir Colin Davis CH CBE, and Sir Charles Mackerras CH AC CBE whose recordings had also won awards that year. There was no doubt that the awarding of 4 (out of the then total of 12) awards to one small independent company, and run by an EMI ex-employee, caused some consternation in the boardrooms of the majors such as EMI & PolyGram ! Having worked the previous 17 years for EMI Music I derived enormous pleasure from this exquisite irony.

In 1983 I arranged with the composer George Lloyd to record his 4th Piano Concerto which then formed part of the launch of the Conifer label. Lloyd conducted with Kathryn Stott & the LSO (see also additional link to George Lloyd at this page). That first release also included John Rutter's own recording - the first ever - of the original score of the Fauré Requiem (now on Rutter's own Collegium label) and a recital of rare English songs by the late (and adored) Elizabeth Harwood (wife of an old friend from my university days at McGill) with John Constable (piano). The Fauré Requiem won the Gramophone Choral Award for that year.
I enjoyed a very warm relationship with Lloyd during those latter years of his life and it seems that I brought great joy to him by introducing him to two great figures of the UK's classical music scene: Engineer Tony Faulkner and Decca Producer Andrew Cornall. Lloyd was ever grateful for these introductions and this pair worked with him almost exclusively until his death.
Also during this time I produced for HH Sheikh Sultan of Sharjah, in association with the UAE government, the first-ever complete recording in Arabic & English of The Holy Qur'an (on 54 cassettes). The English text was read by fellow Old Carthusian Charles Le Gai Eaton. Sadly, and due to islamic intransigence, these recordings are no longer available. Two thousand sets were flown in a specially chartered Boeing 707 to Abu Dhabi after which nothing was heard of them (although it was understood that one had been presented to Sheikh Yamani, the then Saudi Oil Minister !). My own copy was recently donated to the Sound Archive of the British Library (British Museum).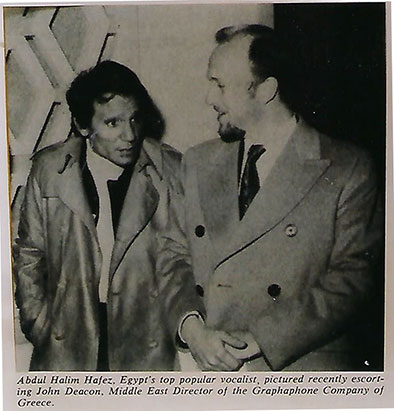 John Deacon meeting singer Abdel Halim Hafez in Cairo c.1973
Siegfried's new sword
"A new sword, dear? How nice"

Within a year of my departure the new management team at Conifer Records (which did not have my support or approval!) had, as expected, set the company on its inexorable decline. The awards ceased. The independent companies, led by Hyperion , BIS & Chandos, were very soon to become the leading prize winners of the increasingly prestigious Gramophone Awards. By the beginning of the '90s Conifer was beginning to lose distribution labels and their annual accounts were showing massive accumulative losses being carried forward every year so that, finally, it collapsed into the arms of BMG Records (RCA) - one supposes for the proverbial £1? The new owner, Evdoros Demetriou, who organised this catastrophe, has in recent years been a "guest" of Her Majesty - convicted of a massive criminal fraud against the HMRC and the City and recently was given a further 8 years for failing to meet the orders of the court. I think one can say, for the pair involved at Conifer, that the collapse of the company couldn't have happened to nicer people - though many lost their employment as a result. A major link is now attached here with a covering statement from the CPS about this criminal and former squaloid pond-life acquaintance !
Before that happened, and leaving my late wife running our Spanish holiday complex < Campobello > I accepted an appointment at Philips Classics in Holland (1989-95) in a position which entrusted me with the responsibility for their home video programmes (on Laser Disc and VHS) and, in particular, the films of all the Wagner operas made at the Bayreuth Festival (by Unitel) as well as the magnificent productions filmed at the

Mariinsky Theatre

(formerly the Kirov Opera) in St. Petersburg under the (formerly !) charismatic

Valery Gergiev

and in which Philips Classics became directly involved in all the sound engineering. As well as leading the market and successfully improving the sound quality of TV originated programmes of this kind (and to a far higher level than heretofore) the company also pioneered (under the late David Hogarth) the use of optional multi-lingual subtitling on Laser Discs by means of the Teletext facility. This time-code driven facility is now a standard feature of the ubiquitous and excellent Digital Versatile Disc (DVD) and also the superb BluRay technology we know today. To this technology now comes Dolby Atmos !

In the early 1990s EMI Greece, for reasons best known to itself, gave up its 70-year involvement with Arab music but by 1995 the company had changed its mind and I was re-engaged to return the company to the field of Arab music at the newly formed EMI Music Arabia in Dubai (Jebel Ali Freezone). The UAE had recently introduced new laws protecting musical copyrights and thus created a suitable environment (see the highly ironic Oum Koulsoum story under links at this site). The EMI Greek factory had by now been closed so my brief was to re-launch EMI back into the field of Arab music. Their original involvement had begun in 1926 with the creation of the Egyptian branch of The Gramophone Company (HMV) in Alexandria where on the instigation of Fred Gaisberg they signed up Mohamed Abdel Wahab and Oum Koulsoum. Having set up these new activities in Dubai I returned in 1997 to rejoin my wife, Irene, at our home in Spain and to begin the glide slowly towards retirement. With the arrival of the Internet it was time to pay particular attention to the marketing of this investment.
| | |
| --- | --- |
| Leaving the reception at The Crillon | I was married to my late wife Irene (née Byrne) at the British Embassy Church in Paris in May 1966 followed by a reception at the Hotel Crillon on the Place de la Concorde. Shockingly, she was taken from us in Jávea in 2002 by pancreatic cancer (aged 62). |
Today I am supported by my three grown up children (John (senior executive in a major City company in charge of pensions), Joanna (French & Norwegian translator and one-time Cambridge Examiner) & Alexandra (Sales Director at the One Aldwych Hotel). I am furthermore blessed with six grandchildren. I maintain contact with many friends across the world of music and the record business as well as in recent years amusing myself giving occasional recorded music presentations for associations or charities using 6 magnificent ATC Active speakers which are such a joy to me as for record producers and serious music lovers. For Concerts Costa Blanca I was involved in running groups by bus to attend the opera productions at Valencia's Palau de la Musica (Valencia Opera House) and also bringing artists like pianists Agustín Anievas, Haochen Zhang, Claire Huangci, Alexander Ullman, The Naughton Twins and both the Dover and Attacca Quartets and various graduate groups from the Curtis Institute under Roberto Diaz & Pamela Frank, to perform in our local (611-seat) theatre in Teulada (the latter all supervised by Wilhelmina Hardee).
Occasional visits were made to Barcelona (Liceu), Montpellier, Bordeaux, Monte-Carlo, and to

Glyndebourne

where I was a member from 1977-2016. Having a life-long passion for Wagner I have enjoyed the good fortune to have attended the Bayreuth Festival numerous times from 1966 (the 1951 Wieland Parsifal was still being staged
) up to 2011 and enjoyed Ring cycles there in 1966, in 1994 & 2003 (the latter two with my three children). Bayreuth is still mercifully free of horrible and ubiquitous sur-titles but has now fallen victim to the most appalling and (for me) insulting extremes of regietheater making further visits there an excruciating and unimaginable expense. One hopes this appallingly delinquent trend (which I call theatrical hooliganism) will eventually fizzle out and die the death so longed for by a majority of serious opera-lovers !
In the autumn of 2017 I was greatly honoured to have my name put forward to be interviewed by the Curator Classical Music of the Sound Archive of the British Library (British Museum) and I spoke for over 4 hours on various aspects of my international career.
In Jávea I served on the committee of the local branch of The Royal Society of St.George, the Jávea branch of Conservatives Abroad (including 2 years as chairman), the now defunct Jávea-based Costa Blanca Anglo Spanish Association (as Vice Chairman) and latterly on the management team of Concerts Costa Blanca as a consultant (known as a "vocal").

Earlier in 2021, I sold the Campobello business to a somewhat dishonest Spanish buyer (now called the "Con-Cheat" - as a play on her first name), via a dishonest and tax-evading Belgian agent and all undertaken by a "bent" Jávea (Spanish) lawyer indulging in what is called professional misconduct (more about this morally corrupt trio will follow shortly at this site). One day I may find time to write about Spanish banks - another story !!! ..... but this Brexiteer is now back in UK and beginning to enjoy his freedom and was at first enthralled to be watching Britain restoring its previous position in the world but the economic damage that has been inflicted upon the nation by the "remoaners & remainiacs" added to the never ending Brussels-driven anti-British sabotage has been distressing ... and then there's the porcine squaloid Russian turd to be dealt with ...... [ and, speaking of that similar runt, my workings at Bayreuth meant that I had shaken hands with a man, Wolfgang Wagner, who had sat on Hitler's lap ! ]

Harefield, Middlesex - May 2023


John Deacon's attitude to watching sport excluding the 6-Nations rugby. (courtesy The Spectator)