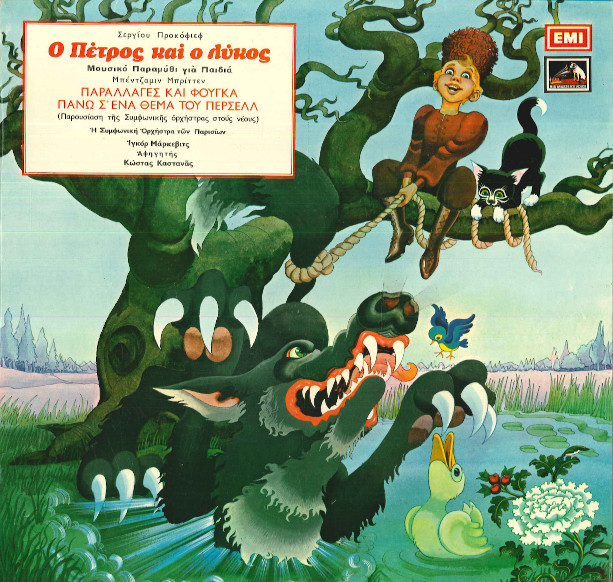 In the spring of 1974 recordings of the narrations,
in both Greek and Arabic, of
Prokofiev's Peter & the Wolf and
Britten's Young Person's Guide to the Orchestra
were made at the EMI studios in Athens

By late 1973 the EMI factory and studios in Greece, employing some 380 people, had recently changed its name from The Columbia Graphophone Company of Greece (founded c.1928), to a simpler EMI Greece, and was under the management of lawyer Clive Kelly (MD) with myself, John Deacon (Sales Director), responsible for exports of Greek music and the ever-expanding panoply of Arab music catalogues. In central Athens Peter Jamieson was the MD of the (the jointly owned) Greek music repertoire source - the record company known as EMI-Lambropoulos (EMIAL). This latter had a fine body of the most famous Greek artists under contract as well as the most serious classical music distribution the country had ever seen.

With three such experienced British executives both companies were booming as never before so that during the spring of 1974 nobody was surprised when I laid down plans for the studios to undertake - in support of their ever growing activities in classical music - a new recording of the narrations in Greek - only the second ever made - for Prokofiev's Peter & the Wolf and a première recording, also with its narration, of the Benjamin Britten Young Person's Guide to the Orchestra, using the backing tracks of EMI Classics by the Orchestre de Paris under Igor Markevitch < https://en.wikipedia.org/wiki/Igor_Markevitch > . It is a small world for not only had I been at Charterhouse with Markevitch's eldest son, Vaslav (whose bold biographical entry in the school archive book read ... "Son of Igor Markevitch and grandson of Nijinsky"), but I had met the great conductor-composer at his home in France some ten years earlier when I had to deliver some EMI papers to him ..... and I dared to ask him to sign my LP copy of Prokofiev's Classical Symphony, de Falla's Tricorne, Ravel's La valse and Dukas's "Sorcier" (Philharmonia Orchestra/ EMI) ! Born in Kyiv, much admired by Bartók, his career went right back to the days of Diaghilev for whom he composed.

But back to the matter in hand : the recordings of the narrations were to be done by actor Kostas Kastanas in Greek (a former pupil of the very famous Greek actor Alexis Minotis) and, for the Arabic version, our Lebanese licensee (Joseph Chahine) had proposed the well known Lebanese TV broadcaster the late Kamel Costandi (** see footnote). The two recordings were to be directed, separately and on my behalf, by the late Dr. Michael Dobbyn a highly respected Irish-American professor of linguistics.

The preparation took some time as the works were in copyright and new translations were required which had to be authorised by the publishers. Upon completion of the Greek translations I called on the Greek conductor Diamantēs Diamantopoulos and his American wife in Kifissia and, as he read through the text for the first time he suddenly burst into fits of laughter ! "What is it ?", I enquired. Well, he said, the original says "The harp has 47 strings and 7 foot pedals" and the translator has written, "The harp has 47 strings and pedals of 2½ metres". You cannot be too careful.

The final translations were then submitted to the publishers in London who were pleased to grant permission.

The Greek recording was a considerable success and still exists on CD (EMI/Warner 480563-2); enquiries for this recording need to be made at the Greek offices of Universal Music in Athens < https://www.umusicpub.com/gr/ContactUs.aspx > although they are poor correspondents ! Sadly the Arabic version was, culturally speaking, rather a long shot because of the general muslim dislike of dogs - or, in this case, a wolf - and was not judged a success.

John G. Deacon
Harefield, Middlesex - May 2022
---
Some thoughts from renowned actor Kostas Kastanas on recording the Greek narrations for Prokofiev's Peter & the Wolf and Britten's Young person's guide to the orchestra
At the studios of EMI (Columbia) Greece (1974)
Dear John Porto Rafti 10/2/2022
Thank you for giving me the chance to write a few words about our interesting collaboration for the recording of Prokofiev's Peter and the Wolf and the Britten Young Person's Guide (1974). It was a good idea and I do expect a few words from your own side! I am sure that even if I checked my story many times mistakes will always be present to remind me that I was not born in Oxford…
There are some works in the life of an artist that sometimes remain as a sweet memory and you can never forget them because you remember these people approvingly and because there were very many good reasons by which to remember them. For me the recording of "Peter and the Wolf" and Britten's "Young Person's Guide" came as a sum of these elements plus the fact that this timing in my life was important.
ooooooooooooooooooooo
I cannot forget the days we recorded Peter and the Wolf with John Deacon for many reasons and I will try to mention some of them here.
a) Times in Greece were always difficult, politically speaking, but that period was crucial. There is a popular saying: "We have eaten the donkey and only the tail remains". And we had tasted the fascistic regime of the colonels for seven years but the "tail" was even harder because it had to do with our national heartbeats: The invasion of Cyprus by the Turks.
b) After resigning from the National Theatre together with my beloved teachers Katina Paxinou* and Alexis Minotis*, we presented plays of Brecht, Shakespeare, Ibsen, Lorca, O'Neal, Sean O'Casey etc. all without having a permanent home theatre, and presenting large plays populated with large casts and thus with high costs which were all very risky for a private production company to survive. Paxinou died in February 1973 and in 1974, exactly one year afterwards, my father died in February.
c) I went abroad, for a short time and a change, but I came back anxious for my future and, of course, for the future of my country. I had already been an actor with a certain experience in big roles having continuously acted in the National Theatre of Greece company and in the company Minotis & Paxinou.
d) By that time I was in love with a very charming woman and every inch of me was sensitive and alert.
οοοοοοοοοοοοοοοοοοοοοοοοοοοο
When the telephone rang and the polite female voice of Gerda Primanis (John Deacon's PA), with a slight foreign accent (Latvian), informed me that Columbia-EMI was planning to record Sergey Prokofiev's "Peter and the Wolf " and the Britten "Young Person's Guide to the Orchestra" with narration in Greek, and asked me if I was interested in being the narrator, I felt happy and flattered with this challenge !
Even more when I was also informed that the producer himself, John G. Deacon, had traced me after some auditions and was seeking a young actor like Tom Courtenay … I knew that only Thanos Kotsopoulos (a noted actor of the Greek National Theatre, and also a teacher of mine) had recorded it many years before and I had listened of course to the French version with Gérard Philipe, whom I adored. On the other hand famous British actors had narrated this symphonic musical tale such as Alec McCowen, Sean Connery, Sir Ralph Richardson and other actors of the world who all had wanted to do it, not only because of its beautiful music but, why not, as a medal of distinction for their successful careers !
I had a very friendly first meeting with John Deacon, a young English gentleman (not much older than I) who gave me the script and we had a talk about the project. I was pleasantly surprised when he informed me that he had called upon a very experienced Irish-American Professor of Linguistics (the late Dr. Michael Dobbyn) for the direction and cueing of the narrative against the orchestral background !
EMI-Columbia's chief sound engineer Sifis Siganos - one of the best in Greece - undertook the technical aspects of the recording in the Columbia-EMI studios at Rizopolis, in a very pleasant and atmospheric mood. We were all concentrating on giving of our very best under the sleepless eye of John and especially as we were "imposing" the narration onto the backing-tracks of no less an austere body than L'Orchestre de Paris under Igor Markevitch. I sensed that he knew very well what he was doing and that he was really an expert in this job.
We celebrated the good results of our work drinking some fine bottles of wine in a very cozy Kifissia restaurant that John, as an expert too, had chosen ! (Lotofagos - known as "Lotus". Long since gone).
The small handwritten note on the back of the LP was written by Alexis Minotis in a hurry at two o'clock in the morning. We were ready to go home from a late evening after a meeting in a bar, when I remembered to ask Minotis to write something for the cover of the disc. I had to send it to John the next morning because he wanted to have the cover completed and ready for printing. We sat down on the pavement of the street near the bar-restaurant "Magemenos Aulos"* and Minotis wrote these few good words for me. I'm sure he had not done this before.
For the sake of a little history I have just remembered that some years later, on one of my trips to London, I decided to call at Columbia (EMI's) main offices to collect some money for my work. A very polite finance manager with a difficult name handed me, with his compliments, a cheque for £50 ! This gentleman's name was Pilborough (or something), he told me his name so many times as if he wanted me not to forget it -and I do remember it still. He also asked me, with a smile, if I had any plans as to how to invest this sum of money. I was a little confused and not quite ready to answer…
ooooooooooooooooooooooo
*Alexis Minotis : Famous great Greek actor and director 1898-1990. He maintained the Epidauros Festival of Ancient Greek Theatre at very high standard with his performances. He was artistic director of the National Theatre of Greece also for many years.
*Katina Paxinou : his wife. She was a great tragedienne of a rare kind. Famous also for her career abroad. Winner of an Oscar for her interpretation of Pillar in Hemingway's "For whom the bell tolls"with Gary Cooper and Ingrid Bergman.
| | | |
| --- | --- | --- |
| | | |
| Deacon, Dobbyn, EMI engineer & Kastanas | Kastanas in the studio | Tribute from Alexis Minotis |
*"Magemenos aulos" "Enchanted flute" - the name was adopted from Mozart's opera by Manos Xatzidakis for this famous restaurant–bar where we many artists used to meet after our shows at Proskopon Square, nearby the Kallimarmaron Stadium …
Kostas Kastanas
- o - o - o
** Ahmad Shamseddine wrote for me ; Narrator of the Arabic versions of the Prokofiev & Britten recordings - Kamel Bechara Costandi - was born in Jaffa on 8th December 1925 and died in Beirut on 10th February 2019. From 1948 till 1956 Costandi was a major figure of the Near-East radio station "Al Sharq-Al Adna" - an arabic speaking radio run by the British government, that broadcast from Jaffa, then from Jerusalem and, from 1948, from Cyprus. He moved to Lebanon in 1956 where he actively participated in the great revival of the musical and artistic scene that was then taking place in Beirut. He was involved in the establishment of the famous "Baalbeck" recording studio and the folklore troupe Al-Anwar. He was selected for this recording by the late Joseph Chahine, EMI licensee and famous record producer, notably of the great singer Fairuz on EMI's Parlophone "Voix de l'Orient" label.
| | | |
| --- | --- | --- |
| | | |
| Costandi in the studio | | Deacon, Dobbyn, Gerda Primanis & Costandi |
June 2022