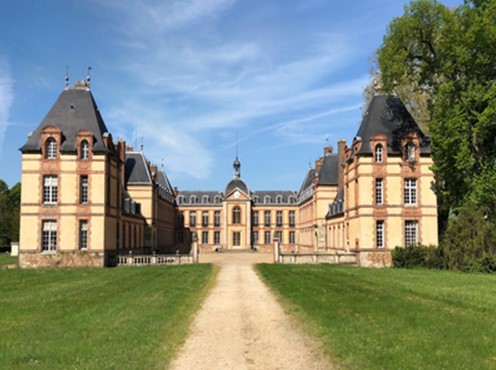 The late Bruno Lussato's château at Montfort L'Amaury
The recording (summer 1995) of the English narration of Bruno Lussato's
documentary film on the themes and leitmotifs of Wagner's epic

Der Ring des Nibelugen

< The eye of the Ring >
narrated by
John G. Deacon
Musical illustrations by : L'orchestre National de France
conducted by Jeffrey Tate

"The documentary is very well done and the narration superb" (former Chief Counsel, EMI Music)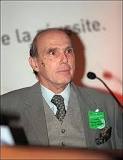 Bruno Lussato (1932-2009) : founder of Le Centre Culturel des Capucins
---
How it all came about ....
In the summer of 1995, when I was preparing to leave Philips Classics, in Baarn (Holland), the company was approached by Bruno Lussato
< https://fr.wikipedia.org/wiki/Bruno_Lussato > a philanthropist of considerable means, who spent much of his time helping to raise the cultural levels of French industrial middle management and most especially where the cultural educational standards of certain senior managers had been judged as having fallen somewhat below that which would be expected of them in comparison with their rank, and the level of achievement, that they had attained in the business affairs of their companies.

I recall that Les Galeries Lafayette & the Auchan national supermarket chain were beneficiaries of this generosity and also that Pierre Boulez was involved as a lecturer as well as one of the leading ballerinas from the Paris Opéra. Being a fanatical Wagnerian himself part of Lussato's "cultural" course for his students involved giving instruction in Wagner's Ring cycle which was in the hands of Pierre Boulez (who had conducted the centenary Ring in Bayreuth in 1976).
Lussato was seeking, from Philips Classics, their permission to use extracts from a studio recording of the Ring. Regrettably the company was not able to grant such a wish (having the rights to no such recording at that time).

Lussato, however, during his visit, had been rather taken with my spoken English and asked me if I would come to France to narrate the English version of his Wagner documentary film "In the eye of the Ring".
Lussato lived off the Champs-Elysées and also at his château at Montfort L'Amaury where the educational activities of the Centre Culturel des Capucins took place centred around his small theatre/lecture hall and recording studio. This is the village where Ravel once lived and his museum is nearby.
The president of Philips Classics, Dr. Hans Kinzl, agreed with this and I went to Paris, and onwards with Lussato to his château, some 50km west of Paris, where I spent three wonderful days in the most beautiful surroundings. I was enthralled by the experience of being a guest in such a glorious place. This was further contrasted by being served at breakfast each day with Lussato in the vast kitchens of the château !
Part of this thrilling experience involved periods when Lussato left me in his library free to browse amongst some of the great musical treasures of France (indeed, of the world !) where he held the second largest collection of Wagneriana outside the Bibliothèque National. Additionally this vast collection included original (& signed) opera and orchestral scores by Saint-Sæns, Dukas, Auber, Debussy, Chausson and many others in addition to two (of the 10 original) limited editions of the Ring paintings by Arthur Rackham - no less !!! Believe me, sitting alone at a huge table in the library, the experience was as terrifying as it was awesome.

Much of Rackham's œuvre can be seen in this film but all these wonderful, phantasmagoric, Wagner paintings can be seen at : https://www.artpassions.net/rackham/wagner_ring.html

Lussato also had, in a small museum in the gardens of the château, what must have been one of the largest possible collections of fountain pens which, regrettably, fell victim to a robbery years later.

But back to the story .... Early in my career in the record business I had visited Bayreuth (1966) for Parsifal (Boulez), Tristan (Böhm) & Tannhäuser (Melles) - and, of course, the Wieland Wagner production of the Ring (Suitner). During my time at Philips Classics (1989-95) I was responsible for the preparation of all the video versions (Laser Disc & VHS) in the Philips Wagner Edition (all involving films made at Bayreuth by Unitel). This, of course, included the Boulez centenary Ring cycle (1976); thus I was well aware of the story and the pronunciations required for the task in addition to previous experiences in various theatres.

Whilst working on the Ring film Lussato came around to asking me if I could stay on a further few days to do the narration for his planned film on Picasso's Guernica but I had to decline as I lacked totally the same standard of expertise in pronunciation ! Even today I think I'd hesitate ! But that's by the way !
The task completed, I left and returned to Holland and shortly after left to return home to Spain .... whilst then waiting to leave to take up a position with EMI Arabia in Dubai.
I heard no more and wondered when the film might appear. That was then - some 25 years ago........
Lussato had died in 2009 and I assume that his vast archive was probably donated to the Bibliothèque National. A few years ago I found the Wagner film on a DVD offered by Amazon and I had to pay (far too much !) to buy a copy ! Today, having had my TV-doctor pass my fibre optic wi-fi signal into my TV decoder, I began to explore You Tube on my big screen whereupon, quite by chance and naturally under Wagner, I found Lussato's film there on the web ! Here it is at :https://www.youtube.com/watch?v=CvpIbfslS9w

At least I am listed on the closing film credits (of this English version) along with others who must have been approached as the film was being finalised (there are 3 other language versions somewhere). These collaborators will have surely included the Bibliothèque National de France, the Orchestre National de France (conducted by Jeffrey Tate) which I believe Lussato must have arranged later. One is totally unable to judge one's own voice from any distance but I will say that I am pleased at the quality of the enunciation - if I may be so allowed ? Others will find it as they will ! Please enjoy it.

The film was put up at You Tube about 5 years ago by an unknown, K. Stewart Bentley. The film's intro-titles suggest current ownership (if true) by a company called MITHEC situate in Nibelheim, France (ha! ha!).

We'll never know what transpired - nor how the final film came to end up on the web - but, as a matter of fact, I am pleased that people are now able to see it and where it may be useful as an educational tool.

John G. Deacon
Chalfont St. Peter, Buckinghamshire SL9 9NL
Text written June 2020